North Royalton Family Dental
|
6391 Royalton Road, Suite A
|
North Royalton, OH 44133
Make A Payment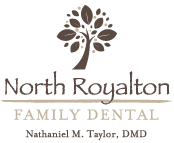 (440) 457-1221

Dentures & Partials in North Royalton OH
Here at North Royalton Family Dentistry, we do all that we can do preserve and enhance your teeth and oral health. Your teeth are important to us, and we provide some of the best care in the area so that you can smile with confidence.
Don't let missing teeth stop you from living your best life. Contact Dr. Taylor today for dentures & partials.
Request an Appointment
It is important to maintain strong, healthy teeth and gums. Proper oral health is a key to many other aspects of health, including digestive care, and a healthy self-image. When maintaining your natural teeth is no longer a viable option, we offer synthetic dental replacements to meet your needs. Using the latest technology and the most effective methods, we can restore your smile to its strongest and most beautiful form. There are two different kinds of dentures available: partial and complete dentures.
Partial Dentures
Partial dentures are used when there are still healthy teeth present in the mouth, but others are missing or in need of removal. Artificial teeth are created to look like the teeth you need, and mounted in a pink base, which is attached to the mouth via a discreet metal framework or cement keeping it securely in place. Some partial dentures are removable. Partial dentures are meant to only take the place of your missing teeth, without disrupting the placement and integrity of your healthy teeth.
Complete Dentures
Complete dentures are used when the natural teeth are no longer present, or when the natural teeth are no longer healthy enough for use and must be removed. Once the gum tissue is completely healed from any tooth extraction (usually about 8-12 weeks), the new dentures are able to be placed and used. With modern dental technological advances, full dentures are made to look very similar to your natural teeth, so that they are discreet and pleasing to the eye. In many cases, you may be able to receive your new set of teeth without people even noticing they were ever absent.
Are Dentures Right For Me?
If you are considering replacing some of all of your teeth, come on in to discuss your options with Dr. Nathaniel M. Taylor. He will present all of your options to you, and allow you to direct the care you receive. At your consultation, you may receive an examination to determine which of your teeth are healthy and which, if any might need extraction in order to provide the optimum environment for your own, specialized dental prosthetic. He will take the time to listen to your concerns and preferences, and discuss how best to address them with care and efficiency.
Dr. Taylor and our staff are well trained and experienced in the evaluation and placement of synthetic dental replacements, or dentures. We know that your unique smile is important to you, and we will work with you to preserve and strengthen that smile.
No insurance coverage? That's not a problem! We will work with you to provide the payment plan you need in order to afford the care you need. We also offer a 20% off discount to our uninsured patients. Do not let your lack of coverage get in the way with receiving some of the best dental care in the area, and the strong, beautiful teeth you need and deserve.
Give us a call, or Request an Appointment today! We look forward to hearing from you soon!