North Royalton Family Dental
|
6391 Royalton Road, Suite A
|
North Royalton, OH 44133
Make A Payment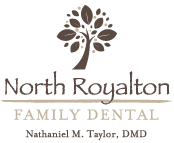 (440) 457-1221

Invisalign in North Royalton OH
Invisalign is the modern way to straighten your teeth by using clear plastic braces that are custom-made specifically for you. The aligner trays used to straighten your teeth are smooth, comfortable, clear and removable. You just slide them in over your teeth and go about your daily life. Dr. Nathaniel M. Taylor is trained and certified to provide this life-changing technology for his patients in North Royalton, OH.
How Does Invisalign Work?
Invisalign treatment is done through a series of aligners that will gradually shift your teeth into the desired places based on the model we create for you in our office using Align Technology. Each set of aligner is unique and are worn for about two weeks each until the entire treatment is complete and your teeth are in their desired positions.
With no metal brackets or wires such as with traditional braces, Invisalign is changing the way teeth are being straightened. The best thing about this treatment is that no one will know you're even wearing them. Invisalign's convenience, flexibility, and discreetness attracts many patients to Invisalign treatment. The overall cost compared to other teeth straightening options is much lower, too. Dr. Taylor and his team at North Royalton Family Dental can help you with obtaining that perfect smile with as little interference as possible.
Benefits of Invisalign Treatment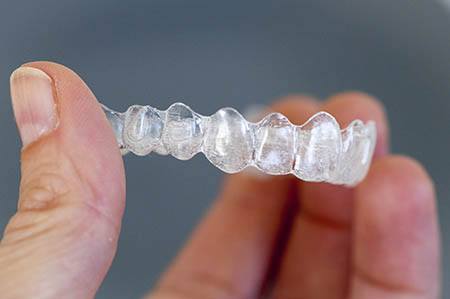 Customized: We take physical impressions or a digital scan of your teeth in order to create a 3D model which we send to Invisalign where they use Align Technology to create your personal custom made aligners.
Removable: Unlike traditional braces, Invisalign aligners can conveniently be removed from your mouth at any time to eat, brush, floss, or for any other reason.
Effective: With Invisalign teeth alignment begins as soon as you put the first aligner in. You'll see your smile gradually improve with each new tray. And most patients are completely finished in less than a year.
Comfortable: Invisalign aligners are just as effective as traditional braces but don't include metal wires or brackets which irritate your mouth and gums. Some patients experience minor irritation when starting a new tray, but it is generally temporary, if experienced at all. Overwhelmingly patients find the experience trouble free.
Inconspicuous: The Invisalign aligners used to straighten your teeth are virtually invisible so practically no one will notice them. You can feel more confident knowing that each time you open your mouth or smile that no one will see a mouth full of metal.
Cost Effective: Invisalign straightens can correct teeth alignment in a fraction of the time of traditional braces. They require fewer intermediary appointments because they don't need to be adjusted. All this contributes to a much lower overall cost of straightening your teeth.
Invisalign is a great alternative to metal braces for teens and adults. Give yourself a boost in self-esteem with beautiful straight teeth!
Request an Appointment
Invisalign Treatment Process
The process starts with visiting our office so we can take a physical impression or digital scan of your teeth in order to create a 3D model of your mouth. Once we have finished the digital scan, the information is then sent to the Invisalign lab where technicians will work with us to create a progressive treatment plan specifically for you. Once the treatment plan is approved, the Invisalign lab creates customized individual aligners for each stage of the treatment. Once the aligners are fabricated, you will receive a series of aligners that you will wear for about two weeks each and will visit our office for a checkup every two months.
Come in for a Consultation Today
Dr. Nathaniel M. Taylor and the team of dental professionals at North Royalton Family Dental are committed to helping you obtain the best smile possible. We are always more than happy to discuss your options for Invisalign treatment as well as other restorative and cosmetic dentistry options. Contact us today to schedule an appointment.