Nathaniel M. Taylor, DMD
|
North Royalton Family Dental
|
6391 Royalton Road, Suite A
|
North Royalton, OH 44133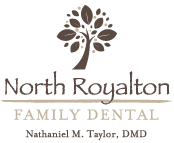 (440) 457-1221

Teeth Whitening
Most people want to keep their pearly whites just that way, pearly and white. Healthy, attractive teeth can boost your self-confidence while they reduce the risk of oral diseases. At North Royalton Family Dental, we understand your desire for a healthy, brilliant smile, which is why we offer a range of in-office and take-home options for teeth whitening and other cosmetic dentistry services in North Royalton.
General Overview
Teeth whitening can greatly improve the appearance of your teeth. It can fix discoloration or remove old stains from food and drink. Whitening can also improve teeth that have been damaged due to certain medications, diseases, aging, or genetics. The most effective whitening happens over time and under professional care. With repetition, you can lighten your teeth by multiple shades.
When considering teeth whitening, you'll need a dental exam first. Other dental issues, like cavities and decay, can affect the whitening process. When applied to teeth with decay, a teeth whitening product can also make teeth more sensitive. Teeth whitening works exclusively on natural teeth with enamel. It doesn't work on crowns or veneers.
In-Office Treatment Options
Our in-office treatment is a great option for achieving white teeth. First, we will keep a photo record of your teeth so you can see the change over time. We will also discuss what could have caused the discoloration and stains so that you can avoid stained teeth in the future. A cleaning will be performed to remove food debris, bacteria, and any other plaque or tartar buildup. Finally, we'll do the whitening procedure itself. A gel agent is applied to your teeth and activated with a special light. We'll clean the gel off your teeth. The entire procedure should take between 45 minutes to 1 hour, at the end of which your teeth will be several shades lighter.
Professional teeth whitening offers fast, reliable results for a more beautiful smile in just one visit!
Request an Appointment
Take-Home Treatment Options
If you'd like to perform teeth whitening in the comfort of your own home, we provide professional home treatment kits that can produce fantastic results. We will take impressions of both your upper and lower teeth so we can make custom trays that will hold the whitening gel in place. A custom, close-fitting mouthpiece will ensure that you get the great results you desire. Within a week or two you are likely to see the level of whitening that you want to achieve.
We're passionate about getting you the treatment that is best for you. Contact us any time if you have any questions or if you want to schedule an appointment. If you're looking for a North Royalton cosmetic dentist, come in and see us!