We face the decision of what "should we eat?" every day. We could go out to lunch and spend money on food that may not be the healthiest option. Or we can pack our own lunches. It can be a struggle to make a lunch that is healthy and fresh every day, so we might cut corners and choose to pack items that are high in carbs, sugars, fats, salt, and oil. That is why it is important to plan out your lunch menu. And, you don't want to fall into unhealthy lunch habits.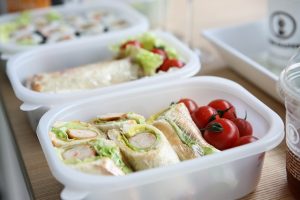 Your North Royalton Family Dentist wants to share a few tips to help you pack healthier lunches. By following some of these tips, you might experience some benefits like weight loss, extra money in your pocket, and even better health in the body and your teeth. It's important to keep your body and teeth feeling and looking their best.
Try the following tips, but remember to stay motivated and committed to packing a healthier lunch.
Replace Filler Food With Healthy Food

Some foods pack really easily and can be eaten hot or cold. However, some of the foods you choose might be loaded with sugars, fats, and unwanted ingredients. Try to change out a few of the pasta and cheesy items and add more fruits and vegetables to your lunch menu. Packing more of these items can also make you feel full for longer.

Make Your Dinner Work For You

If you are interested in eating a healthier lunch, chances are you are interested in eating a healthier dinner too. Why not kill two birds with one stone? Try cooking an extra helping of your healthy dinner and pack it for lunch the next day. Your food can still be fresh and healthy for lunch and it saves you a trip to the grocery store for different ingredients. This can definitely help keep your motivation level high.

One Meal to Feed Them All

If you don't want to cook an extra helping of dinner every night, try cooking one large meal once a week. There are several meals that are easy to make in large amounts. And, they can stay fresh for the whole work week. Make yourself enough food for five lunches on Sunday, and see how well it can start to fit into your routine.

Same same, but different
Sometimes it can feel boring to eat the same meal everyday and it can make you crave something else for lunch. But if you learn how to use your leftovers in a creative way. You can turn it into something new and different, Your steak from the night before can easily be cut into strips and become a nice steak sandwich. So you won't be bored with the same old same old.
The Buddy System

If there is one thing that can help keep somebody motivated and committed to changing their routines, it is to have a friend hold you accountable to your decision to change. Try telling a coworker, spouse, or roommate about trying to pack healthier lunches. You can even convince one of your co-workers to split meal prep with you. If both of you agree to cook meals on alternate weeks, you can stay motivated longer because you'll be doing half the work.
For more tips on how to pack a healthier lunch and to keep your body, and teeth happy and healthy, contact your North Royalton Family Dentist. They are committed to making you and your family's teeth look and feel their best. Call today to make an appointment and find out more information.