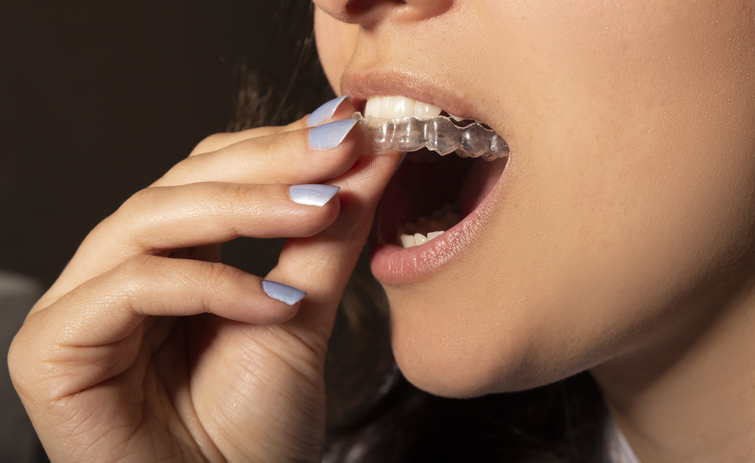 Crooked teeth, crowded teeth and gaps between teeth all affect the appearance of your smile. If you don't want to try metal braces, Invisalign is an effective alternative. Dr. Nathaniel M. Taylor and the team at North Royalton Family Dental are ready to help you look your best.
What Is Invisalign?
Invisalign is a type of clear aligner used to correct misaligned teeth and bite problems. Although Invisalign has some of the same effects as metal braces, the aligner is made from a clear, flexible material. With Invisalign, you don't have to get metal brackets on your teeth or wear rubber bands, making your orthodontic treatment less visible.
How Does Invisalign Work?
With Invisalign, the clear aligner exerts slight pressure on your teeth, moving them into the correct position. Each aligner is made from a custom mold of your teeth to ensure it fits properly. During Invisalign treatment, you'll receive a new aligner approximately every 2 weeks to ensure that each one continues to fit correctly as your teeth shift.
What to Expect with Invisalign
Before you start wearing an aligner, we use Align Technology to take a 3-D image of your teeth and jaw. Dr. Taylor uses that image to create a custom Invisalign treatment plan based on your needs. Invisalign corrects several orthodontic issues, including crooked teeth, gaps between the teeth, crowded teeth and bite problems.
Once you start Invisalign, you should wear your aligner for as long as directed, usually 20 to 22 hours per day. You can take the aligner out to brush and floss your teeth, eat and drink. You'll also need to clean the aligner regularly to remove the bacteria responsible for bad breath and dental disease.
Benefits of Using Invisalign
Using Invisalign has many benefits. First and foremost, you can get the smile of your dreams without having to wear metal brackets and wires. Although Invisalign isn't completely invisible, the clear aligner is much less noticeable than traditional metal braces. Your Invisalign treatment is also completely customized to ensure you achieve the desired result without discomfort. Align Technology allows us to send Invisalign a model of your mouth and have them create aligners just for you.
Another benefit of Invisalign is that it doesn't irritate the mouth and gums like braces do. Even if you feel some slight irritation when using a new aligner, it goes away quickly. Many people experience no irritation at all. Finally, Invisalign works faster than traditional braces, giving you the smile you want in much less time.
Does Invisalign Work Well?
For certain alignment issues, Invisalign works just as well as traditional braces. In some cases, it works even better. Although Invisalign is effective, it's important to understand that not everyone is a candidate for this type of orthodontic treatment. Invisalign works best when you have mild to moderate misalignment or bite problems. If you have large gaps between your teeth, misshapen teeth or serious bite problems, it may not be the right treatment option.
Set Up an Invisalign Consultation
The team at North Royalton Family Dental is dedicated to helping you improve your dental health and feel confident in the appearance of your smile. To discuss Invisalign with Dr. Nathaniel M. Taylor, call us or request an appointment online.