North Royalton Family Dental
|
6391 Royalton Road, Suite A
|
North Royalton, OH 44133
Make A Payment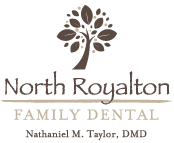 (440) 457-1221

Restorative Dentistry in North Royalton OH
When it comes to restorative dentistry, there are few people you can trust more than
Dr. Nathaniel M. Taylor
and his team at North Royalton Family Dental. He understands that nobody looks forward to a trip to see the dentist, but the occasion will arise when you need quality care to address injuries, tooth decay, and tooth loss. Sometimes we may assume the worst-case scenario, but Dr. Taylor may be able to help you avoid the need for surgery or
tooth extraction
.

In the event you do require restorative care, we will make it as easy as we possibly can for you. Here are some of the most common restorative dentistry services we offer.
Restorative Dentistry restores the look and functionality of your smile.
Request an Appointment

If you suffer from gum disease, there are multiple options available to explore. What Dr. Taylor may recommend will depend on the severity of your case. We may be able to begin with a cleaning using fluoride several times throughout the year. We can use a technique called scaling and root planing to treat a deeper infection. In more severe cases, we will use soft tissue grafts, bone grafts, or surgery to save your gums and teeth.

Technology has come a long way since early tooth fillings made of metallic compounds. The resin fillings we use bond to your teeth much better, which increases the chance that they will hold without falling out later. Dr. Taylor can also fill your cavity while leaving more of your tooth intact due to our ability to mold the filling to the space we need to fill. Finally, they provide a much better aesthetic appeal because they will be unnoticeable to the untrained eye.

Infected teeth can become extremely painful, but they are dangerous as well. A root canal serves the purpose of removing your infected root and then closing the rest of your mouth off to future infection. The reason this form of restorative dentistry is so important is that infections can spread from one tooth to another or even to other parts of your face. Dr. Taylor understands how intimidating this procedure may be and will guide you through the process while helping you manage your pain both before and after your root canal.

There are a multitude of reasons why you may require full mouth reconstruction. Whatever your reason might be, Dr. Taylor understands that the needs of each patient are unique. He will evaluate your needs and medical history to determine the best course of action, from dental bonding and tooth reshaping to root canal therapy, dental crowns, or implants. Since restorative dentistry of this magnitude often requires multiple appointments and home care, Dr. Taylor will guide you through each step of the process with diligence and care.

Missing teeth aren't only the cause of low self-confidence and embarrassment, but can also change your quality of life dramatically. Dr. Taylor will review all of your options when determining which form of restorative dentistry is best for your specific situation. He may recommend a dental bridge, which requires placing a crown on the teeth surrounding the one you've lost and a pontic, which acts as the bridge between them. There are several types of bridges our team can recommend and we will help you decide which is best for you.

Sometimes there is nothing left for you to do to maintain your natural teeth. When this is the case, Dr. Taylor may speak with you about removing your unhealthy teeth and creating a set of dentures for you. What some people don't know is that you can in fact get partial dentures if you still have healthy teeth. Before determining if you should extract any teeth and get a set of dentures, Dr. Taylor will review all of the restorative dentistry methods we have access to in order to see if there are other options that would suit you better.

There is a growing interest in dental implants, which offer certain benefits to patients in need of restorative dentistry. While they cost more upfront, they last forever and do not need to be replaced as long as you care for them properly. Dr. Taylor can discuss the benefits with you when deciding whether you'd like to pursue implants in place of dentures, a bridge, or a crown. Implants might not be the answer to your specific situation, so Dr. Taylor will evaluate your needs thoroughly in order to be sure they are right for you.

If you need a root canal or tooth extraction, you'll probably require a crown to seal your damaged or infected tooth. In restorative dentistry, crowns are used to restore the appearance of your tooth as well so that your smile doesn't suffer. In the past, crowns were made of gold, steel, and even ceramic. While ceramic crowns are the most popular, Dr. Taylor can now work with resin, which can deliver a more natural aesthetic than any other material.
Schedule an Appointment to Learn More

If you're in need of quality dental care, you can't go wrong with North Royalton Family Dental. We are one of the best dental offices serving North Royalton and Dr. Taylor treats each of his patients with compassion and respect.
Dr. Taylor will do what is needed to determine the cause of your problem before presenting you with all of your potential treatment options.
Contact us
today so that we can schedule an appointment!